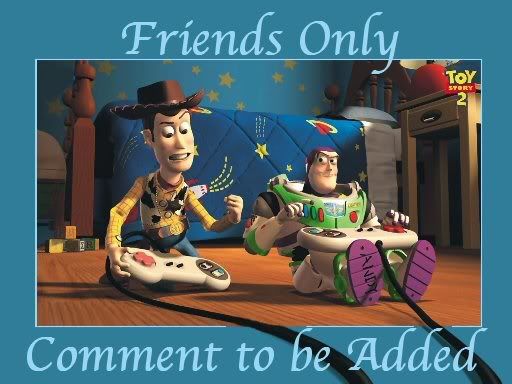 Why am I Friend Only-ing my journal? *Shrugs* 'Cause I feel like it I suppose and plus it means I can use this picture. I always did enjoy Toy Story and the nintendo games consols just give me a burst of nostalgia from my childhood as well.
Plus it means my mother can't spy on what I've written. I know she does as well!
Comment if you'd like me to put you my list thing-ie-me, lj is confusing to say the least when you don't know what you're doing.
Cheers,
Japs.
Edit:
The TS pic is made by
jadeleopard
! Cheers my dear.
Current Mood:

Dreamy

Current Music:

Cold- Annie Lennox


Taken from Harry Potter and the Battle of Wills by Jocelyn (which is fabulous by the way)...

"You ought to know by now not to get too close when I go nutters."

Why will I be driven mad? The misuse of the word nutters just drives me up the wall.

Now I'm English born and bred, I'm eighteen and I have read more fics you can count. Let me tell you, whilst trying to sound British, a hell of a lot of writers use the word nutters wrong. I want to get this sorted out for once and for all!

So... The low down of all the nuttery words!

Nuts- the situation, a person. Eg. "You are nuts." or "That was absolutely nuts."

Nutter- A person. "Sirius is a nutter."

Nutters- plural word for nutter. "Nutters, all of them." or "Those two Weasley nutters."

*Rolls eyes* Sorry to go on about it, it just drives me... nuts... when it is used wrong.
I will be driven me mad one of these days...!
Current Mood:

contemplative

Current Music:

Alannis Morissette- Head over Feet